Peru In-Style (5 Day Program)
Peru In-Style (5 Day Program)
Tailor this tour to your personal style with our choice of luxury hotels in Lima and Cuzco. With your own expert private guide, you'll enjoy enriching city tours and a full-day excursion to Machu Picchu!
January 01, 2022
through
December 31, 2022
Itinerary Map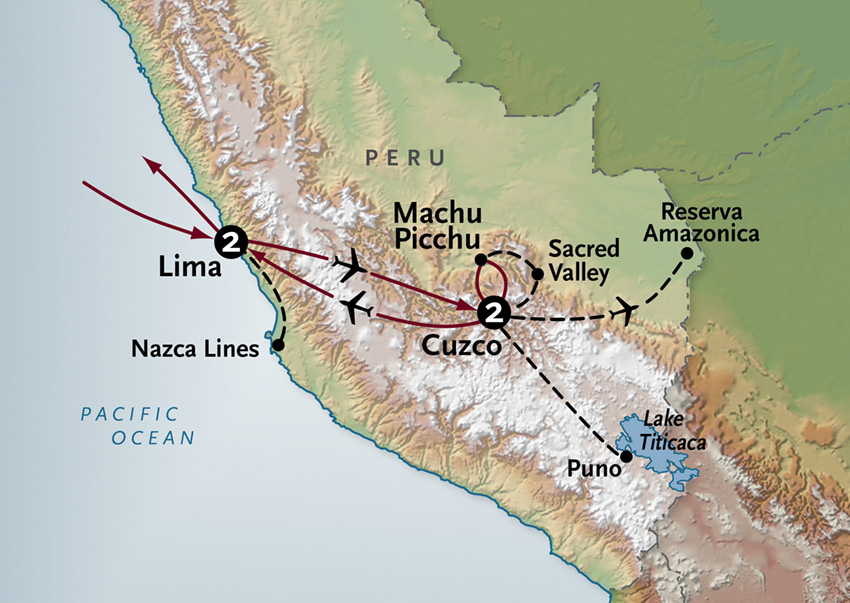 By Rail to Machu Picchu #WHS#
Fly Back to Lima… Or Extend Your Travels
Alexander+Roberts

Peru In-Style (5 Day Program)

Day 1: Welcome to Lima, Peru

On arrival, you'll be warmly greeted and chauffeured to your choice of luxury hotel. All have been carefully selected for their prime heart-of-it-all locations here in the lively capital.

Day 2: Discover Lima #WHS#

After a leisurely breakfast, your car, driver and guide will be waiting to show you Lima's highlights - starting at the Larco Museum; renowned for its superb collection of pre-Columbian artifacts, your private tour is the perfect introduction to the Inca sites you'll explore in the coming days. After a light lunch, continue to Plaza Mayor in the historic heart of the city. Admire the Archbishop's Palace, easily recognized by its grand wooden balcony, and behold the impressive 18th-century Cathedral. Close by, you'll tour the beautiful Convent and Basilica of Santo Domingo, built in 1766. Then spend time exploring the streets of Barranco, where 19th-century aristocratic homes have been given new life as cafés, galleries and boutique. Visit MATE, a pioneering contemporary art museum founded by Mario Testino, the Peruvian photographer famed for his portraits of cultural icons including Diana, Princess of Wales, Madonna and Gwyneth Paltrow. In addition to a permanent collection of Testino's works, MATE features rotating exhibits devoted to established and emerging contemporary artists. Meals B+L

Day 3: Fly to Cuzco #WHS#

After breakfast, you'll be chauffeured to the airport for your included flight to Cuzco, the ancient capital of the once vast and mighty Inca Empire. On arrival, you'll be escorted by private car to the luxury hotel of your choice - where oxygenated rooms promise greater comfort in this high-mountain town. With your own personal guide, this afternoon's tour begins in the peaks outside of town where you'll discover the magnificent ruins of Sacsayhuaman. Built in the 1400's by the Inca Emperor Pachacútec, the massive limestone blocks of this venerated complex were cut with such precision that they fit together without mortar like the interlocking pieces of a jigsaw puzzle! With some individual stones towering more than 10 feet tall and weighing several hundreds of tons, Sacsayhuaman is a monumental achievement of architecture and masonry. You'll also visit San Pedro Market and Almudena Cemetery; here at these seemingly quotidian sites, your guide will offer fascinating cultural perspectives and personal insights into how ancient traditions - many dating back to Inca times - still endure in the life of local citizens. Then discover Cuzco's Cathedral and the other Colonial-era landmarks that line the Plaza de Armas. At the Temple of the Sun and Convent of Santo Domingo, you'll discover one of Peru's most fascinating sites. It also demonstrates the rich layering of history here in Cuzco, where a sacred structure of one culture, the Convent, literally sits atop and practically encloses another, the Inca-built Temple of the Sun. Finish your tour with an engaging local bartender and learn how to make the perfect Pisco Sour, Peru's signature cocktail. Meals B

Day 4: By Rail to Machu Picchu #WHS#

After breakfast, you'll be chauffeured to the station to board the Vistadome Train for your journey through the Sacred Valley. Sit back and enjoy the views as you travel through this timeless region of snow-capped Andean peaks, quiet villages and terraced fields that have been cultivated for centuries. On arrival in the charming town of Aguas Calientes, you'll board the coach for the 30-minute ride up the switchback mountain road that brings you to the entrance to Machu Picchu. The fabled Lost City is certainly the single greatest landmark in Peru - and perhaps all of South America. Indeed, little can be written here that would do justice to the breathtaking grandeur of its mountain setting, the enigmatic power and aura that so permeate this ancient citadel, and the unforgettable experience of standing among these ancient stones. And with your personal guide's illuminating expertise, your visit will bring to life the ancient Inca civilization that built Machu Picchu. After sightseeing, board the train back to Cuzco and return to your luxury hotel. Meals B+L

Day 5: Fly Back to Lima… Or Extend Your Travels

We'll take you to the airport this morning for your return flight to Lima where you can connect to your homeward journey. Or extend your travels in South America with any of our Short Stay Tours. Lake Titicaca, the Nazca Lines and the Peruvian Amazon are among our most popular extensions. Meals B


Additional
Offers

January 01, 2022

to

December 31, 2022

January 01, 2022

to

December 31, 2022

January 01, 2022

to

December 31, 2022
Journeys Without a Crowd
Our 74 Years of Experience
As you prepare to turn your travel dreams into your next great adventure, be assured that we are with you every step of the way. Since 1947, we've been committed to providing a more caring, sustainable and authentic way to explore the world. Now we've turned our expertise to ensuring that we are fully prepared to show you our world in A+R Style… Without a Crowd!
Our Health + Hygiene Protocols
Emphasizing More Personal Space + Extra Care at every step of the on-tour experience, we have enhanced our safety protocols in coordination with our overseas offices and based upon guidelines from the U.S Center for Disease Control, World Health Organization, United States Tour Operators Association and World Travel & Tourism Council.
Choose Your Travel Style… Always Without a Crowd
With Never More than 16 Guests, our Small Group Journeys promise personal engagement with our expert native guides and easy camaraderie with like-minded travelers. You'll enjoy authentic dining, evocative hotels and unique cultural experiences not available to larger groups.
The Privately Guided versions of our Small Group tours and our luxury Private Journeys offer the same advantages – but allow you to choose your traveling companions. Travel any day you wish and delight in the flexible pace of touring with just your traveling party.
Custom Journeys are tailor made just for you – with expertly guided private sightseeing, unique cultural activities, hotels, and dining experiences tailored to fit your personal interests and style.
Our Enduring Ability to Respond
Since 1947, our global team and partners have always been there to respond with speed and agility to even the most unexpected events. When the Arab Spring of 2011 led to unrest in Cairo, for example, we were the first American tour company to safely evacuate our guests from Egypt. Through earthquakes, tsunamis, labor strikes, and past outbreaks like SARS, our commitment has always been to maintain our travelers' trust and confidence by doing the right thing.
And we are fully bonded with leading travel organizations like the United States Tour Operators Association, of which we're a founding member. This financial stability and our capacity to respond to the unexpected make us uniquely positioned during this current COVID-19 pandemic - to proceed confidently with prudence and deliberation.
About Alexander+Roberts
Having survived World War II in Poland, my friend and mentor Alexander Harris founded General Tours in 1947 with the conviction that travel could build bridges of cross-cultural understanding. Since our first-of-its-kind tours to the Soviet Union in 1955 we've remained at the forefront of international travel, helping culturally inquisitive Americans explore 85 far-flung destinations on all seven continents.

Thus, for 74 years, our company … first known as General Tours and now as Alexander+Roberts … has been providing guests with sustainable, authentic and personal ways to enjoy our world with thoughtfulness and a light footprint. We exclusively offer small groups of 'never more than 16 guests,' completely private versions of these same tours departing on any day you choose for just your traveling party, or journeys tailor-made to your specifications.

Alexander+Roberts is a privately-held American company based in Keene, New Hampshire with integrity, financial security, and the demonstrated expertise to care for travelers in a sometimes tumultuous world. We're bonded with major travel organizations like the United States Tour Operators Association of which we were a founding member in the 1970's.

Our luxury services include comprehensive sightseeing, transfers, all tour flights, tips and unique experiences designed to enhance your experience in the culture you're exploring. Fine dining is an important aspect of our touring, with congenial meals including wines and beer that reflect authentic regional cuisines. We search out the finest accommodations to enhance your journey… from the most evocative luxury hotels and historic boutique properties to the best safari camps and small ships.

We often hear from travelers that our guides are extraordinary. They hail from the lands you'll visit and speak English easily and casually. Because they're lifelong residents, they have the knowledge and passion to engage you comfortably and more deeply with the people, history, traditions and natural wonders of their homelands.

We hope you'll make your next journey with Alexander+Roberts… and let us show you the world with our signature style and remarkable value.

Robert Drumm


CEO
Alexander+Roberts