Ultimate Southern Africa Safari
Ultimate Southern Africa Safari
Visit the best big game reserves in all of southern Africa to see the planet's most unbelievable creatures on the Ultimate Southern Africa Safari. Discover the ultimate safari experience in ultimate luxury. Staying at some of the most fabulous lodges in Africa, you will be surrounded by the African plains and big game. There will be no shortage of safari drives, relaxation and excellence as you uncover the beauty of southern Africa.
Your Itinerary Includes:
Roundtrip transfers
Shared light aircraft transfers in Botswana and South Africa
1 night Johannesburg
3 nights Sabi Sand Private Game Reserve
Sabi Sands game viewing
2 nights Matetsi Victoria Falls
Scheduled Activities at Matetsi
3 nights Linyanti
Linyanti game viewing
3 nights Okavango Delta
Okavango game viewing
Meals: 12 breakfasts, 9 lunches, 11 dinners
Adventure and Active
Educational and Learning
Family Vacations
Luxury
Romance and Honeymoons
Safari, Animals, and Wildlife
Spa and Fitness Trips
November 01, 2022
through
December 15, 2022
Itinerary Map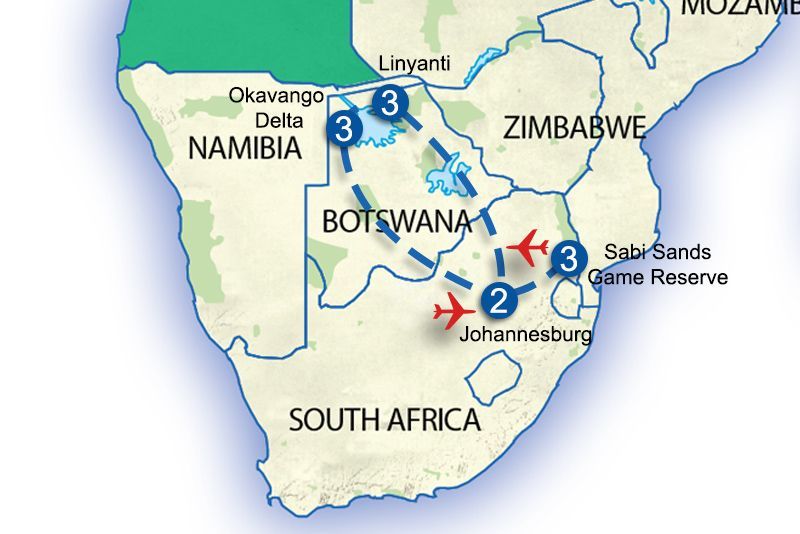 Johannesburg to Sabi Sands Private Game Reserve
Activities at Singita Ebony Lodge
Activities at Singita Ebony Lodge
Matetsi Victoria Falls to Linyanti (via Kasane)
Loading Itinerary Content...
Additional
Offers

November 01, 2022

to

December 15, 2022

July 01, 2022

to

August 31, 2022

September 01, 2022

to

September 30, 2022

October 01, 2022

to

October 31, 2022
Swain Destinations: Ultimate Southern Africa Safari

InterContinental Johannesburg O.R. Tambo Airport Hotel,Luxury, Johannesburg
Singita Ebony Lodge,Luxury, Sabi Sand Private Game Reserve
Matetsi Victoria Falls,Luxury, Victoria Falls
DumaTau,Luxury, Greater Chobe National Park
Mombo,Luxury, Okavango Delta


Standard (3*) to (3 1/2*) Offering limited facilities and services, these are moderate rooms with private ensuite bathrooms that offer exceptional value for money for the price conscious traveler.

Superior (4*) to (4 1/2*) These hotels are typically better equipped with more comfortable accommodation, and are often in a fairly central location to major sightseeing.

Deluxe (5*) Boasting luxurious and spacious surroundings, these accommodations offer the highest level of international quality accommodation and service. Typically with exquisite décor, exceptional service and superb award winning restaurants.

Luxury (5*) + Premier accommodations in choice settings offering exquisite surroundings, the finest guest services and indulgent amenities. These properties are often one of a kind and are ideal for discerning travelers.
Swain Destinations: Ultimate Southern Africa Safari

Apartheid Museum Tour
Discover the racial segregation experienced by millions of South Africans a mere decade ago. On entering the building you are racially classified and you see this segregation in all forms of life. There are excellent displays including the inauguration of Nelson Mandela as President.

Soweto Culture Tour
Travel through the streets of the sprawling township of Soweto, scene of the tragic riots of 1976. Despite crowded and chaotic conditions, there?s a tangible sense of community which the ordered, walled suburbs lack. Pass the Mandela House, with the option to visit the small museum. Then, visit Regina Mondi Church, site of many underground meetings for then banned political parties.


About Swain Destinations
Customizing the travel experience, Swain Destinations is the leading U.S. provider of completely personalized exotic vacation experiences. Since 1987, Co-Founders Ian and Linda Swain, and their dedicated team of destination experts have offered American travelers the opportunity to design distinctive trips to intriguing international locales, including Australia, New Zealand, the South Pacific, Asia, India, and Africa. From adventure-packed trips to leisurely getaways, Swain Destinations curates itineraries based on each individual's travel preferences. Dynamic experiences range from a chef's table dining extravaganza on Hayman to a safari journey across the East African Plains.